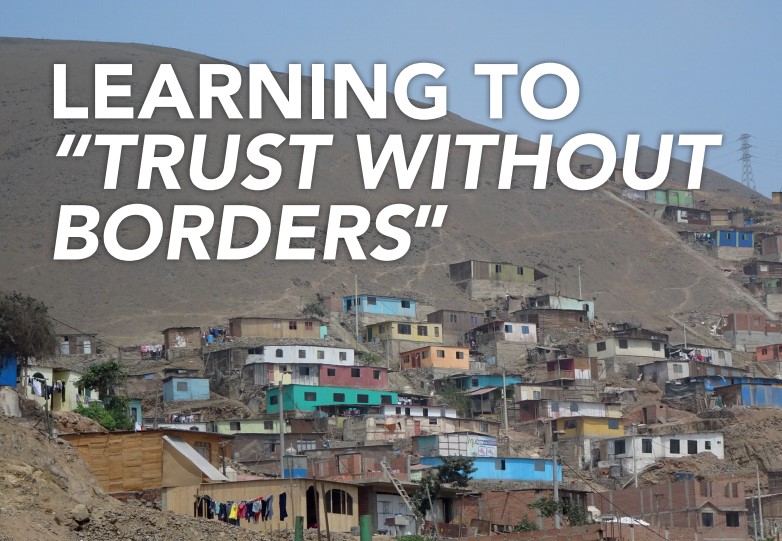 Jenny Mair, Rugby Branch, attended a ShareWord Global GO Mission Trip to Lima, Peru in September 2019, along with her husband Iain, UK Executive Director. Here Jenny shares how something that filled her with trepidation, turned out to be a life-changing experience...
A Mission Trip was something that everyone else does. Never in my wildest dreams would I have imagined I would travel to South America; in fact, I have a long list of countries that I would never travel to and have previously passed on when given the opportunity.
So, how did it come about that I came to join the ShareWorld Global GO Mission Trip to Peru? Good question. When I had previously voiced that husband and wife should be able to participate in overseas mission trips together, I had never thought I'd be challenged by my own words; but now the door was open and I was being challenged…would I walk through it? I did and I was attracted to Peru for several reasons, including my interest in the country from sponsoring a child through CompassionUK, not to mention my love of Paddington who came from darkest Peru. Above all, I felt the Lord was calling us and that was confirmed time and time again on the trip.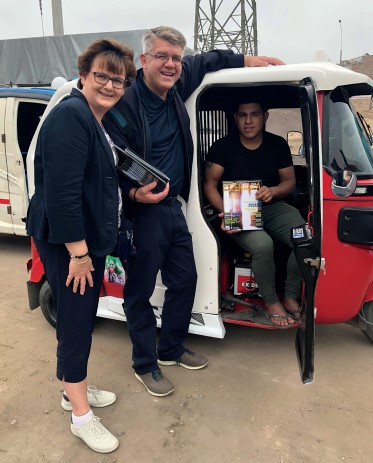 I have to honestly say that as the time for the trip grew nearer and nearer, I felt more and more unprepared, everywhere I went people were so excited at the mention of Peru, but I have to admit, I just wasn't feeling it. My work colleagues thought it was wonderful, even the lady in the Post Office when I went to collect my foreign currency, said "Peru, how fantastic!" but I was filled with fear.
One of the great blessings of a GO Mission Trip with ShareWord Global (SWG) is the excellent preparation and training you receive. This took the form of three Skype calls with the Canadian trip leader and other members of SWG staff in the months leading up to the trip, a training session on the first day of the trip, and constant encouragement and guidance throughout the trip. If you feel called to attend a SWG Mission Trip, be assured, you will be well prepared, no matter how nervous you may feel.
On our first Sunday in Peru we went to a lovely church, where everyone was so friendly and welcoming, something that we experienced throughout our time in Lima. At the end of the service, Pastor Billy announced that those from Canada and England would be witnessing to people in a local park that afternoon and challenged the congregation to join us and help in sharing the Gospel with others. Out of a congregation of about 100, 51 people joined us that afternoon, it was simply amazing. I couldn't help but wonder what the reaction would have been to such a challenge being given following a Sunday morning service in a UK church of a similar size.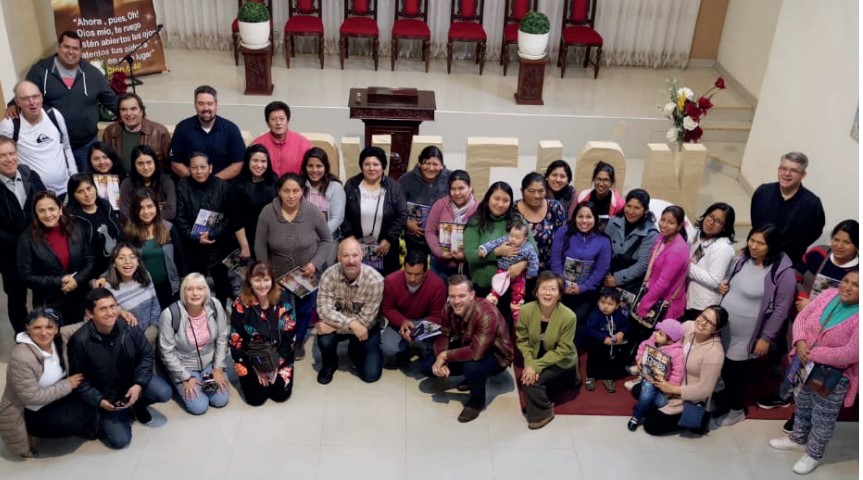 In a public park in the centre of Lima, Peru, we were thrown in at the deep end. I have likened it to being put on the top diving board with no arm bands, no rubber ring and then being pushed right into the water. We were sent out in teams of two with our interpreter, armed with copies of the Hope magazine (Esparanza), which contain the entire Gospel of John and many extracts from the Psalms, and told to go and simply talk with the people in the park. "I can do all things through Christ who strengthens me" That was all we had……copies of Esparanza, an interpreter and most important of all, a God who can help you step out of your comfort zone and walk on water.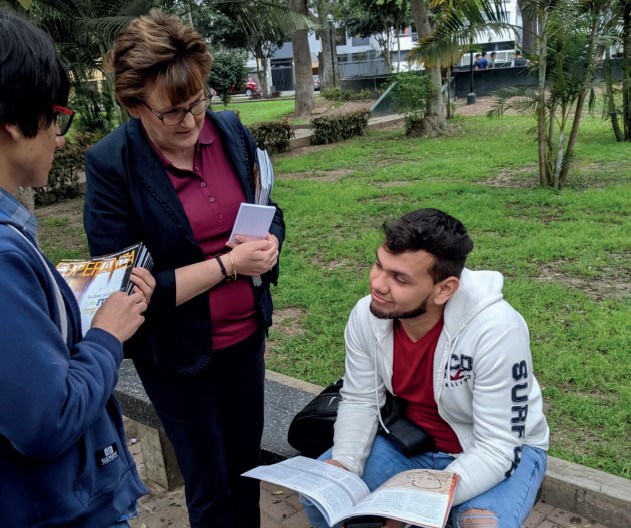 The second person we approached was a young man named José who was sitting on a bench; we spoke with him, shared John 3:16 and he told us that although he had heard of Jesus, he didn't know Him. We shared the Gospel with him and asked if he would like to ask Jesus to come into his life and take away his sins. He indicated that he would, and we had the privilege of leading José in a prayer as he prayed for forgiveness of his sins and committed his life to Jesus. Wow, it was amazing, God had answered our prayers, you could see his eyes light up and a real glow in his face, it was such a special and very emotional moment, tears were flowing and we praised God that He was right there with us in that park in Lima, Peru.
Throughout the week there were many more Josés; there was Rosa, Alex, Javier, Lionel, Nancy, Daisy, Hugo & Edith, Alberto, Reuben, Marie-Carmen and many more, each one now a child of God and brought into His Kingdom, names written in Heaven and names we will always hold in our hearts. After that Sunday afternoon in the park in the centre of Lima, each day we worked on the outskirts of the city, in areas of extreme poverty and trod paths that I never imagined or dreamed I would tread but each day the team grew stronger and stronger and bolder and bolder in sharing the Good News of the Gospel.
Each day stirred up more emotions as the team set off to start another new day, waiting expectantly to see God at work in a mighty way. One day we visited a church school and spoke with the kindergarten children and their parents, each one receiving a 'Spark' magazine; the children waved flags and sang to us. The parents were then taken into the main church where Iain had the privilege of preaching the Gospel to them, and when asked if they wanted to accept Christ, many raised their hands and were led to the Lord in prayer, the Holy Spirit was indeed at work and the team witnessed something very special that morning.
Much of our Mission Trip work was one-to-one witnessing in marketplaces where locals were selling whatever they could to try to make a living. The poverty was overwhelming at times, but we were greatly encouraged that the people were so open to having conversations with us about Jesus. Reuben, one of the market traders, was sitting on the ground with some TV and video remote controls laid out on a cloth. I spoke with Reuben about the Lord and he said he wanted to accept Jesus, so it was an immense privilege to be able to lead him in a prayer as he accepted Christ. We had many experiences like this but without the support of the local churches who were so faithful, this work would not have been possible.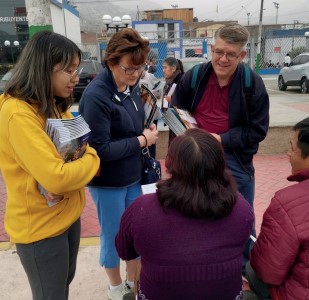 Almost all the work we did was in conjunction with local churches. We were personally supported by ladies from local churches who took down names and contact details of those who had come to faith, so they could follow up on the seeds that had been sown and encourage them to continue in their faith by attending church. It was an immense privilege to work alongside these faithful servants.
One morning, we were invited to an audience with the Mayor of one of the areas of the city. When we arrived, we were all welcomed into the Municipal Building by his staff. The Mayor had given permission for the team to visit schools that morning in his area. Iain shared with the Mayor why we were in Lima and was able to preach the Gospel and pray with him. He thanked us for what we were doing and for making a difference in the pupils' lives. Our team was then provided with two security guards and a security truck to carry the Scriptures as we headed out to visit the schools. The Mayor also requested that we should return to the 'Job Fair' taking place on the streets outside the Municipal Building to give out the Hope magazines to all the people who would visit the stalls looking for jobs. What an opportunity!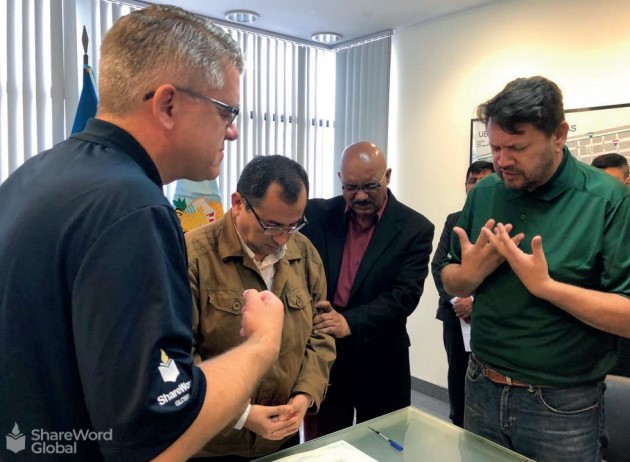 In the Job Fair we were able to witness to many desperate people, many of whom were Venezuelan immigrants searching for work. It gave us the liberty to move among the people, share the Gospel, lead many to Christ but also just to show love and compassion by praying with those who were already followers of Jesus. Many of them were so open to us praying with them and shared their needs; one lady Nancy stopped to listen to us, she was a Christian and was from Venezuela.
Nancy explained that getting a job was proving very difficult as she didn't have the necessary documents to enable her to be employed. I prayed with her that she would find work, she was in tears and very emotional. I hugged her and she went on to explain that her son, Michael Alexander was still in Venezuela, very ill and in need of medicine. I prayed with her again and asked God to provide the medicine for her son, but I also asked God to heal him. Our time was up in the Job Fair, and as we boarded the bus, I broke down and wept and even now as I put words on paper, it is impossible not to get emotional when I think of that desperate situation and yet, Nancy's faith is strong and she is trusting in God despite the storm she is going through. Nancy was just one of many whom we were able to minister to by offering to pray with them.
Going on a ShareWorld Global Mission Trip is life changing and as much as that sounds cliché, it really is. To be able to work alongside the churches, Pastors and their congregation and see people brought into God's Kingdom was life changing. The support from the churches was amazing, the follow up in ensuring people knew where they could find a church and encouraging those who committed their lives was indeed one of the most rewarding parts of the trip and these people sacrificed so much of their time.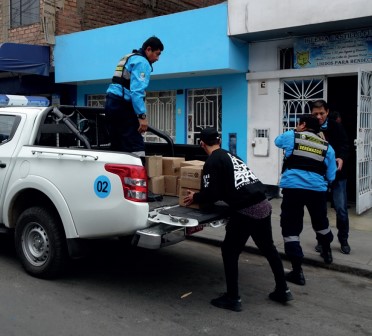 "Then Saul clothed David with his armour. He put a helmet of bronze on his head and clothed him with a coat of mail, and David strapped his sword over his armour. And he tried in vain to go, for he had not tested them. Then David said to Saul, "I cannot go with these, for I have not tested them." So David put them off. Then he took his staff in his hand and chose five smooth stones from the brook and put them in his shepherd's pouch. His sling was in his hand, and he approached the Philistine."
- 1 Samuel 17:38-40
Humanly speaking David was weak opposition to Goliath but he went armed with five smooth stones, a sling, a staff and the power of the living God. We didn't take stones, a sling or a staff but what we did have was the powerful Word of the living God and with that powerful tool were able to see many repent and have their lives changed.
Finally, I would challenge you as I was challenged and my challenge to you is… If I can go…then so can you! You may not know what your strengths are but go and you will find out how you fit into the team, but if you never go you will never find out. There are many more José's, Marie Carmen's, Rosa's, Javier's etc. all in need of a saviour, so will you be the one to share the Gospel with them?
Spirit lead me where my trust is without borders
Let me walk upon the waters
Wherever you would call me
Take me deeper than my feet could ever wander
And my faith will be made stronger
In the presence of my Saviour.
(Hillsong United: Songwriters: Joel Houston, Matt Crocker, Salomon Lighthelm)