Bibles for Hotels
For over 70 years this Association has been providing Bibles to hotels, guest houses, bed and breakfast establishments, etc.
These Bibles are provided completely free of charge and we know from many letters, emails and telephone calls of feedback received how much they are appreciated by guests.
Reading the Bibles we provide, including the unique section at the beginning which gives help and guidance for many circumstances in life, have provided numerous guests help to deal with a range of different problems, worries and fears, as well as find comfort and reassurance in loneliness. In the most extreme case suicides have been prevented.
Please don't leave your guests without a Bible, it could mean literally life or death.
HOW THE BIBLE CAN HELP IN HOTELS
We can supply Bibles to your hotel. Please indicate your interest on the order form below and one of our representatives will be in touch.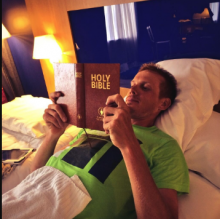 My Story - Bibles for Hotels STORY
"Through the Bible in my hotel room, I really needed the words of comfort and support that I came across in Isaiah 41:10 "So do not fear, for I am with you; do not be dismayed, for I am your God......"  That will no doubt help me continue in ...
READ MORE OF THEIR AMAZING STORY HERE