My name is Debbie and I am a Sister at Tameside Hospital on an Acute Admissions Unit, usually a very busy, organised unit. Patients arrive here acutely unwell. We stabilise them and move them onto relevant wards or discharge them home.
In March last year everything changed. We became an Acute Covid ward. Patients were admitted for high levels of oxygen and ventilation. In spite of this patients were not getting better, deteriorating very quickly and often dying. This was very new to everyone, even the consultants and anaesthetists were baffled at patients not responding to treatment.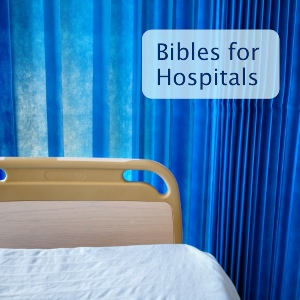 Some of these patients were very young and none of them had any loved ones present. This was distressing for the patients and the staff as normally we see relatives as very important when their loved ones are dying. Nurses were now sitting holding patients hands when they were dying.
We were having to contact relatives by 'phone to inform them that their loved had died. Our work became frightening, emotionally and physically draining. For me trying to support and encourage staff and comfort them when they were broken and afraid after a busy twelve hour shift was exhausting. I was also very fearful of taking this virus home to my husband.
As I called out to the Lord on many occasions, He gave me many comforting words of Scripture, especially Psalm 46 – 'be still and know that I am God'. This Psalm I read over and over again from my Bible which I carry in my pocket at work. I wanted to thank you for placing Bibles in the hospital. Prior to Covid I read the Psalms to patients who are dying alone or had no relatives, so it was natural for me to reach for these Bibles again at this time and read to my patients who were dying alone.
...a sense of real calm and peace on our unit.
Other members of staff heard me reading to patients and remarked 'what lovely poems they were'. I had many opportunities to witness to staff and some of them read these Psalms to patients and also carried these Bibles in their scrubs pockets. I began to feel a sense of real calm and peace on our unit. We had no church ministers available in the hospital so your Bibles have been a real blessing and light in this dark situation.
Love Debbie.