Bibles for Prisons
"Remember those in prison as if you were their fellow-prisoners."  Hebrews 13:3
For many years we have been actively involved in work in prisons.  Testaments are presented to prison officers, prison staff and prisoners.  Bibles are provided for prison cells.  Members often visit prisons to support Sunday morning services, conduct Bible studies and to help in many other ways.
This work is undertaken in close cooperation with Prison Chaplains, as explained by David Spademan, Managing Chaplain, HMP Onley, 
"I often say to people that I have the greatest ministry this side of heaven. I feel very privileged to be able to work as a Prison Chaplain with pastoral responsibility for around 740 prisoners and 500 prison officers and support staff. Good News for Everyone! have an established and appreciated commitment to prisoners in providing Bibles completely free of charge to use in Chapel Services, Bible Studies, Alpha Courses, and also to give out to individual prisoners, prison officers and support staff on request. This amazing work of supplying Scriptures has undoubtedly changed many people's lives."
HMP Onley was the first prison in the UK to receive Testaments specially badged for the prison officers and support staff.  Since 2016 many prisons around the country have received badged Testaments.
HOW THE BIBLE CAN HELP IN PRISONS
We can supply Badged Testaments. Have your organisations logo embellished on the front of our Bibles. To request Bibles and/or Testaments for your prison, Badged Testaments for prison officers and support staff, or a visit to your prison by a member of our organisation, please indicate your interest on the order form below and one of our representatives will be in contact with you.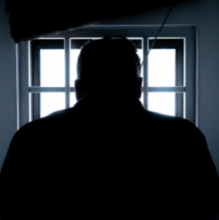 Andy's Story - Bibles for Prisons STORY
While in prison, I decided to take my own life.  My situation had become so hopeless I'd lost the will to live. At that moment a quiet voice spoke to me "Just read that Bible." 
READ MORE OF THEIR AMAZING STORY HERE