Membership of Good News for Everyone!
Our objective is to introduce others to the Lord Jesus Christ by placing, presenting and/or distributing Scriptures in many different areas of life, most often Testaments, which include the New Testament, Psalms and Proverbs, but also copies of the full Bible. 
Please prayerfully ask the Lord if He would have you enquire about joining as a member of our ministry. We have local branches all across the UK to connect with to joyfully take part in sharing the Gospel in your local area. We look forward to hearing from you! 

Got questions about Membership? Call us today!  01455 554 241
Join us in our work  visiting local...


 
Schools
"Remember your Creator in the days of your youth......" 
 Ecclesiastes 12:1
The highest number of Testaments distributed annually is Youth Testaments, either through a school assembly talk or through Religious Education lessons.  A school assembly talk offers the opportunity to encourage pupils to accept a Testament, to inspire them to read it, and to show them how to use it.
More recently, in many schools, we are now being asked to take Religious Education lessons.  A special training programme to help members involved in school lessons to be confident in delivering teaching in accordance with the national curriculum, has been developed by NATRE (National Association of Teachers of Religious Education).  NATRE has also provided help for school assembly presentations.
"I'm in year seven and a couple of months ago we were given the red 'New Testament and Psalms'.  I looked into the 'where to find help' page and I found exactly what I was feeling.  Even though I hate to admit it, I was close to suicide but it really did help.  When I felt like I had nowhere to turn and nobody to speak to I had God."
Colleges and Universities
We offer College Testaments to students at University and College Fresher Fairs or through 'pavement distribution'.
Hospitals
"Who forgives all your sins and heals all your diseases." 
 Psalm 103:3
Testaments are placed at hospital bedsides and may be hard or soft cover or even shrink wrapped if required.  Testaments are available for presentation to medical and other hospital staff.
"Last week I found myself in hospital for a hip replacement operation.  I am not brave and was very anxious indeed. As I waited to be called for surgery; I looked in the bedside cabinet and finding a Bible, started to read the notes at the front.  I was immediately very comforted.  I remain very thankful indeed for the help I received that day."
Prisons
"Remember those in prison as if you were together with them in prison." 
 Hebrews 13:3
Testaments are presented to prison officers, prison staff and prisoners.  Bibles are often provided for prison cells.
"In August 2006, while in prison, I decided to take my own life.  My situation had become so hopeless I'd lost the will to live.  I had made a noose and decided to fix it up at the window then let myself hang to death.  At that moment a quiet voice spoke to me "Just read that Bible."  On the shelf sat a copy of the New Testament and Psalms.  I opened the book at the beginning of Mathew's Gospel and started to read.  At Luke's Gospel, the story of the lost son, my tears started to flow, my hopelessness disappeared and the wretchedness I had suffered went.  If no Bible had been in that prison cell I would be in hell right now; instead of living my life in the joy of the Lord!"
Hotels
As well as placing Bibles in Hotels, we also put them in Guest Houses, Holiday Homes, Cruise Liners, Medical waiting rooms, and Legal Offices.
"Through the Bible in my hotel room, I really needed the words of comfort and support that I came across in Isaiah 41:10 "So do not fear, for I am with you; do not be dismayed, for I am your God......"  That will no doubt help me continue in a positive way forward in the face of difficult trials I've been facing.  So just want to thank you for your work and encourage you in how through your work people like me are being helped through the availability of a Bible in their hotel room.  Please feel free to share this testimony of how the Bible is helping people and how it is important to continue to be available in every hotel room throughout the UK."
Care Homes and Residential Homes 
Large and Ultra Giant Print Testaments are available for those with sight impairments and are often placed in Care and Residential Homes.  However, they are also available to students at schools and any other area if required.
Personal witnessing
Maybe you don't feel you have the time available at present to participate in any of the above activities, but would you be willing to always be ready to share a copy of God's Word with those you come in contact with on a regular basis?
Personal witnessing can be challenging and daunting but, when we are open to God, He will empower us to take advantage of the opportunities He gives us to share our faith in Him with others.  People will occasionally refuse our offer of a Testament, but most people are happy to take one.  Some people even ask for the complete Bible.  Large Print and Ultra Giant Print Testaments are available for witnessing to people with sight impairments.
'My Commitment' pages are found at the back of most Testaments.  It may be that you will feel led by the Lord to guide the person through these pages sharing with them the way of salvation and leading them towards a saving knowledge of the Lord Jesus Christ.  When we share our faith in this way, we pray that God, by His Holy Spirit, will speak into that person's life as they read the Testament, that they will find the Lord Jesus Christ as their own personal Saviour and find a local church, fellowship, etc, that will help them grow as a Christian.
Whatever time you can give to this work is between you and the Lord, you may be able to give a great deal of time to this work, you may be able only to give a little time, but every contribution of time is valued and can/will be used of the Lord towards another person coming to faith in Him.  Applicants for membership must:
Believe in the one true God, revealed as Father, Son and Holy Spirit.

Believe in the Lord Jesus Christ as the eternal Son of God.

Have received the Lord Jesus Christ as their Lord and personal Saviour.

Believe in the Holy Bible as the inspired, infallible and inerrant Word of God.

Believe that unrepentant sinners will be condemned to eternal punishment.

Endeavour in their daily lives to follow the example and teaching of the Lord Jesus Christ, as revealed in the Holy Bible.

Be a member in good standing of an evangelical protestant church or assembly.
We are being faithful to the Lord's command:
"Ask the Lord of the harvest, therefore, to send out workers into His harvest field."
 Matthew 9:38
Facebook Members Group
Our Members enjoy the community from being a part of the Members Facebook Group where news, testimonies and updates are shared together.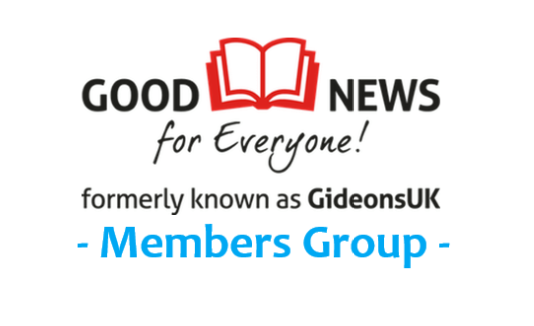 If that is you, a worker, we look forward to hearing from you and being able to share with you much more of the many blessings of membership.

Got questions about Membership? Call us today!  01455 554 241